A Day In May – The World Premiere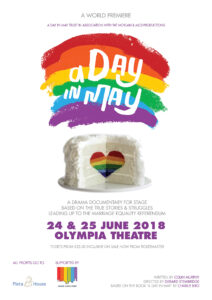 We all remember the weeks and months leading up the that magical day in May 2015 when the people of Ireland said Yes to marriage equality.
Ticket are now on sale for 'A Day In May', a play based on the book of the same name by Charlie Bird that captured some of the stories from historic referendum.
The play will run as part of this year's Dublin Pride Festival for two nights only – Sunday 24th and Monday 25th June – and take place in the Olympia Theatre Dublin.
All proceeds from the event will go to our friends and collaborative partners, Pieta House. We work in partnership with them to deliver a counselling service for LGBTI+ young people who were self-harming or thinking of suicide. Growing up LGBTI+ doesn't need to be painful and challenging. But not being accepted for who you are can have serious impacts on the mental health of our young people. LGTBI+ young people are three times more likely to attempt suicide, and two times more likely to self-harm than their non LGBTI+ friends. By accessing support through our Pieta House Counselling Service, our young people can stop the pain they feel, and rediscover reasons to live.