We are Belong To, the national LGBTQ+ youth organisation.
Since 2003, Belong To has grown from a youth project into a unique national services and advocacy organisation with and for LGBTQ+ children and young people. Youth services, which inform our research, education work and a development approach, enable us to provide solution-based advocacy at an institutional and public level.
We are rooted in and driven by our direct work with LGBTQ+ young people aged 10-24 and we exist to:
Create and generate safe spaces and places for LGBTQ+ young people.
Empower others through education to support LGBTQ+ young people.
Lead policy and practice by providing expertise, developing best practice models and reflecting lived experiences.
Ensure LGBTQ+ young people have the opportunity to have their voices heard.
Be an advocate for LGBTQ+ young people and champion change.
---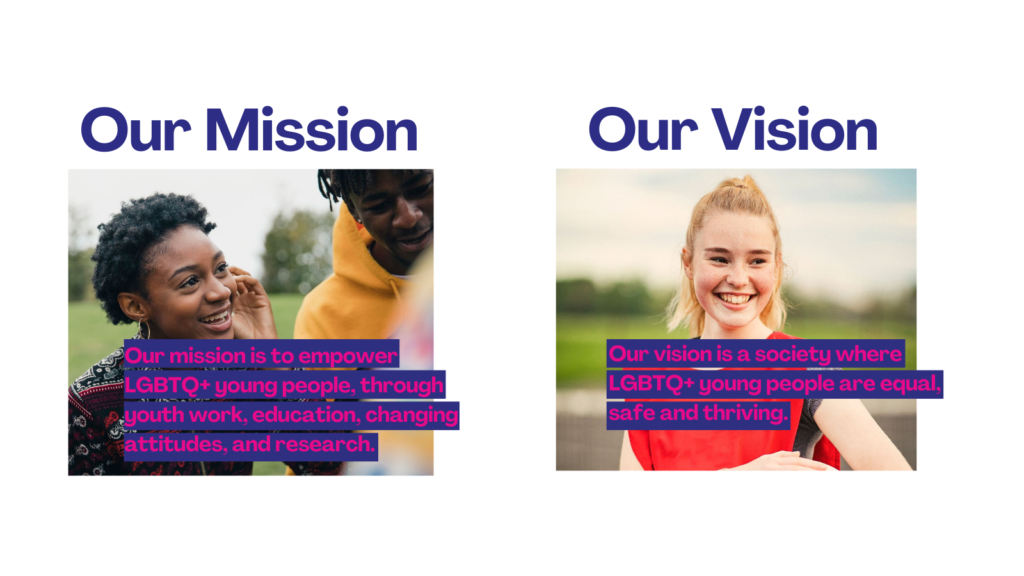 Trustworthy
We are transparent in our work, how we operate and in our governance.
Courageous
We challenge and speak out about the causes and effects of prejudice,
discrimination, homophobia and transphobia on LGBTQ+ young people,
and what must change.
Rooted in experience
We work as equals with LGBTQ+ young people. What we say and do is
informed by their lives, experiences and the challenges they face.
Inclusive and diverse
We seek to create a sense of belonging and to reflect and include the diversity
of LGBTQ+ young people and are mindful of intersectionality. We work in community
and solidarity for human rights and social justice.
Welcoming
We are mindful of people's wellbeing and strive for our spaces and interactions
to be joyful and fun, while ensuring they are safe and respectful.
Strategic
We deliberately make choices about where we focus our work and energy so
that we can make maximum impact on where we lead and where we partner with others.
---