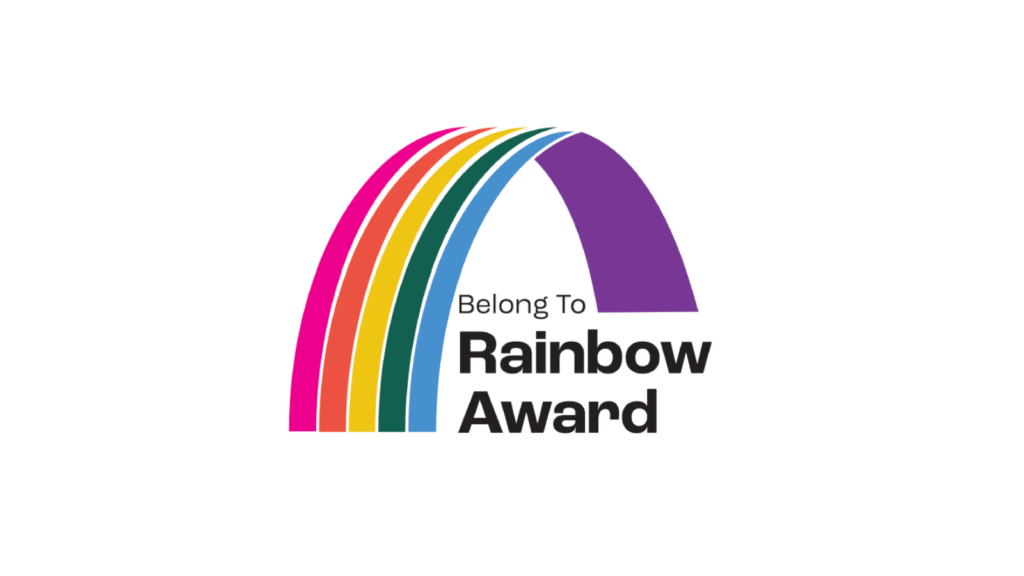 Belong To is delighted to launch our new accreditation programme for youth services.
The Rainbow Award offers youth services an in-depth, action-focused programme to become fully inclusive of LGBTQ+ young people.
In 2023, Belong To will partner with youth services nationwide to support them in working towards achieving the Rainbow Award.
Why is the Rainbow Award needed?
The 2016 LGBTIrelandReport found that LGBTQ+ youth are more likely to experience stress, suicide ideation and anxiety than their non-LGBTQ+ peers. Findings revealed that shame, stigma, discrimination, isolation, exclusion, bullying and fear of rejection were the main reasons for these higher risks.
The National LGBTI+ Youth Strategy, 2018-2022, recognised that the provision of safe and inclusive youth services plays a major role in reducing these risks. This can be achieved by providing young LGBTQ+ people with a place to be themselves and feel safe, find connection, community, agency and build their resilience.
The Rainbow Award is a whole organisational approach to being an inclusive, safe and supportive service for LGBTQ+ young people, staff and volunteers.
There are six steps on the Rainbow Award journey, including capacity building, a portfolio, review of standards and a site visit. To meet the Rainbow Award criteria, you will need to meet standards in these six key areas. A dedicated team member from Belong To will support you along the way.
National Network
We partner with organisations across the country that provide LGBTQ+ youth groups and facilitate a National Network for connection, information and advice.
Learn More
Training for Youth Sector
Learn to understand and meet the needs of LGBTQ+ youth with our suite of online training courses.
Learn More