Aviva Stadium will light up for Pride on Friday 26th June and are asking people to shine a light from their homes to #LightUp4Pride
Aviva donate €50,000 to BeLonG To LGBTI+ Youth Services to fund essential increased support for LGBTI Youth in Ireland
Aviva Stadium is lighting up for Pride this year on Friday 26th through to Sunday 28th June and Aviva are asking people to #LightUp4Pride
Aviva, one of Ireland's leading insurers, has donated €50,000 to BeLonG To LGBTI+ Youth Services to help fund the increased levels of digital youth work and online group support which allows LGBTI+ young people to be who they truly are. To further celebrate Pride this year, Irish Football stars and couple Katie McCabe and Ruesha Littlejohn launch Aviva Pride and the unique collaboration between two valued Aviva partners, BeLonG To Youth Services and Aviva Stadium – the home of Irish soccer and rugby. Aviva Stadium will be lit up and beaming the Pride colours on Friday 26th – Sunday 28th June and Aviva is asking people to shine a light from their homes.
Recent findings from a national survey LGBTI+ Life in Lockdown, conducted by BeLonG To Youth Services, revealed that 93% of LGBTI+ youth are struggling with anxiety, stress or depression during COVID-19 in comparison to 53% of the general youth population, showing the dire need for increased digital youth work during this unprecedented time.
Additional key findings reveal that during COVID-19:
55% of LGBTI+ young people are struggling with suicide ideation.
45% of LGBTI+ young people are struggling with self-harm.
60% of LGBTI+ young people are experiencing loneliness.
"The research highlighted some alarming stats and emphasises the importance of LGBTI+ young people having access to spaces and supports for their mental health and wellbeing. We are extremely grateful for the additional funding Aviva has given us to sustain the increased levels of support until the end of the year. We can now continue to address the needs of those who are most vulnerable in society, creating safe spaces to allow LGBTI+ young people to be who they truly are. We are looking forward to all shining bright this Pride." BeLonG To LGBTI+ Youth Services CEO Moninne Griffith
Aviva has supported Pride for the past 3 years and the Aviva Pride Network, which is Aviva's Lesbian, Gay, Bisexual and Trans+ Employees and allies network group, will this year be celebrating Pride virtually with online fundraisers for BeLonG To, and sharing stories of colleagues from the LGBTI+ Community. Inspired by its unifying mantra; 'Spend energy being yourself, not hiding it', Aviva Pride aims to build on a culture of openness and inclusivity, showing how Aviva takes pride in its community where everybody is #SafeToDream.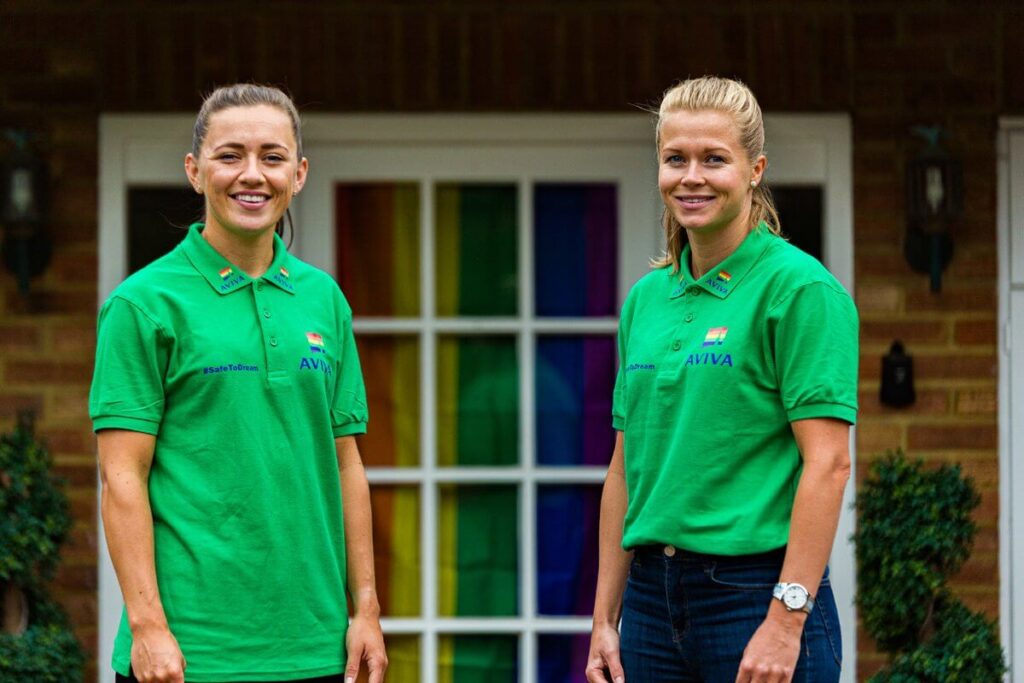 Katie McCabe, Captain of the Ireland International soccer team and Ireland teammate Ruesha Littlejohn publicly announced their relationship in 2019 and this year are looking back on the reaction they received saying: "Last year we came out to the whole of Ireland and we wanted to show support for the LGBTI+ community and that it's okay to be who you are and you should always be comfortable in your own skin. We've received a lot of DM's of people telling us their story of how they've come out and others are still working up the courage to come out. We have had people that inspire us and to be that person for other people, it makes you feel quite proud that you might have helped someone along their journey."
Aviva has released an inspirational video ahead of Pride this year highlighting the responses Katie and Ruesha received after coming out as a couple last year.
Brian O'Neill, Head of Communications, Brand and Sponsorship, Aviva Ireland said: "It's been a very difficult year for everyone, but to see these alarming stats on how the lockdown has been affecting the LGBT+ youth is a huge eye-opener and it's more important than ever that we light up our homes for Pride and celebrate together. We've come a long way as a nation, and we encourage everyone to wave their rainbow flags and be proud to be who you are. Katie and Ruesha have been an inspiration to so many people and we hope that by sharing their personal journey can help give support to the LGBTI+ community."