The Dropbox Foundation has announced that it is partnering with the Dublin based non-profit, BeLonG To Youth Services. As part of this partnership, BeLonG To will receive unrestricted funding from the organisation, providing vital flexibility – and allowing BelonG To to move quickly and effectively in its campaigns advocating for young LGBTI+ people.
BeLonG To is an LGBTI+ rights organisation aiming to create a world where LGBTI+ youth are equal, safe and valued in the diversity of their identities and experiences. Working across Ireland, BeLonG To campaigns on behalf of young LGBTI+ people, and offers specialised services with a focus on mental and sexual health, alongside drug and alcohol support.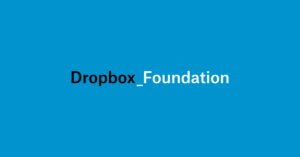 "We as an organisation, at our core, believe that young people can be agents of positive social change," said Oisin O'Reilly, Head of Operations and Fundraising. "We strive to ensure that the experiences of LGBTI+ young people inform our work. The way we engage with young people and adolescents is a process of equal partnership. This means we encourage young people to think for themselves and work with us in developing our campaigns and programmes. It's the young people who are living those experiences who are the experts on their lives."
O'Reilly says their focus is on changing systems, structures, and attitudes in society. Unfortunately, family rejection, fear of coming out, and homophobic bullying is still a big problem. BeLonG To provides safe spaces for young people going through these issues and they continue to lobby government to make policy changes at a higher level.
"As things change and we see more problems arrive at our front door, more people needing help, this grant just gives us the freedom and the ability to support those young people in whatever situation," said Caroline Flynn, Partnerships and Engagement Manager.
For O'Reilly, he said the grant means "there won't be people who get phone calls unanswered or won't get to talk to someone, or who will be left on their own, so all of those things give us hope."
In addition to the funding, Dropbox has also offered voluntary assistance from its staff. Employees will be given time to help BeLonG To with impactful projects, providing increased capacity and expertise for a range of possible needs across the business.
The Dropbox Foundation will be partnering with Belong To in addition to three more human rights nonprofits— Environmental Justice Foundation (EJF) in the UK, and The Mockingbird Society and Raheem in the US.
These four new organisations will be joining the Dropbox Foundation's existing cohort, which includes Allies Against Slavery, Human Rights Law Centre, and Physicians for Human Rights, who will be funded for another year. The Foundation's four inaugural grantees (GOAL, Larkin Street Youth Services, War Child UK, WITNESS) are now alumni partners as the company closes out their three-year funding grants but continues skills-based volunteering support.
Notes to Editor
For more information, please contact: Sinead Keane, Communications Manager. Mobile: 087 768 0389 . Email: sinead@belongto.org
BeLonG To Youth Services is a national organisation supporting lesbian, gay, bisexual, transgender and intersex young people. Since 2003, BeLonG To has worked with LGBTI+ young people to create a world where they are equal, safe and valued in the diversity of their identities and experiences. The organisation advocates and campaigns on behalf of young LGBTI+ people and offers a specialised LGBTI+ youth service including information, support, crisis counselling in partnership with Pieta House and the provision of LGBTI+ youth groups across Ireland.