Pronouns: she/her
Who inspires you? 
The young people are work with inspire me everyday. Trans and non-binary young people are the strongest, most resilient people I have ever met and they teach me how to be my best, truest self.
What are your hobbies? 
I love reading. I have Dyslexia, so all throughout my childhood I avoiding reading, as it was too difficult. However, once I accepted my disability I grew to become obsessed with reading. It is such an escapism for me to get lost in a good story
What's your favourite animal? 
Dogs of course! There is no need to explain this, dogs are the best friend anyone could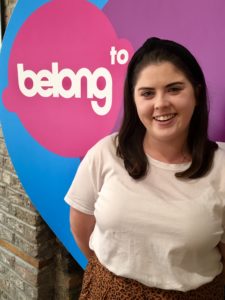 have. I am an only child, so I grew up with my family dog as my best friend and sister. I miss her every day.
Where would you like to travel? 
I have always wanted to go back to Vietnam. I was there a few years ago and I feel in love with it. Such a beautiful country.
How do you support LGBTI+ young people?
I support young people through 1.1 work and group peer support sessions. I work with young people through an equal partnership approach. This means young people's voices at the core of all my work and any decision I make in my role. Young trans and non-binary people are the best people I have ever worked with. I am so so lucky!