BeLonG To Youth Services Celebrate €71,000 Rainbow Ball Fundraiser
On Friday, November 16th BeLonG To Youth Services hosted the second annual Rainbow Ball in the Ballsbridge Hotel, Dublin raising €71,000 for vital LGBTI+ youth support services.
Celebrities, corporate partners and allies came together for a moving night to support LGBTI+ young people. The Rainbow Ball is the signature annual fundraising event hosted by BeLonG To Youth Services last year raising €53,000 work to eliminate bullying from schools across Ireland.
This year's event, sponsored by Aviva, The Coca-Cola Company, Marks & Spencer, Slack, Dalata Hotel Group, Irish Life, Intel and Microsoft marked the end of Stand Up Awareness Week. Funds raised from the Rainbow Ball will fund Stand Up Awareness Week in second-level schools across Ireland, which tackles anti LGBTI+ bullying that can have a devastating impact on young people's mental health.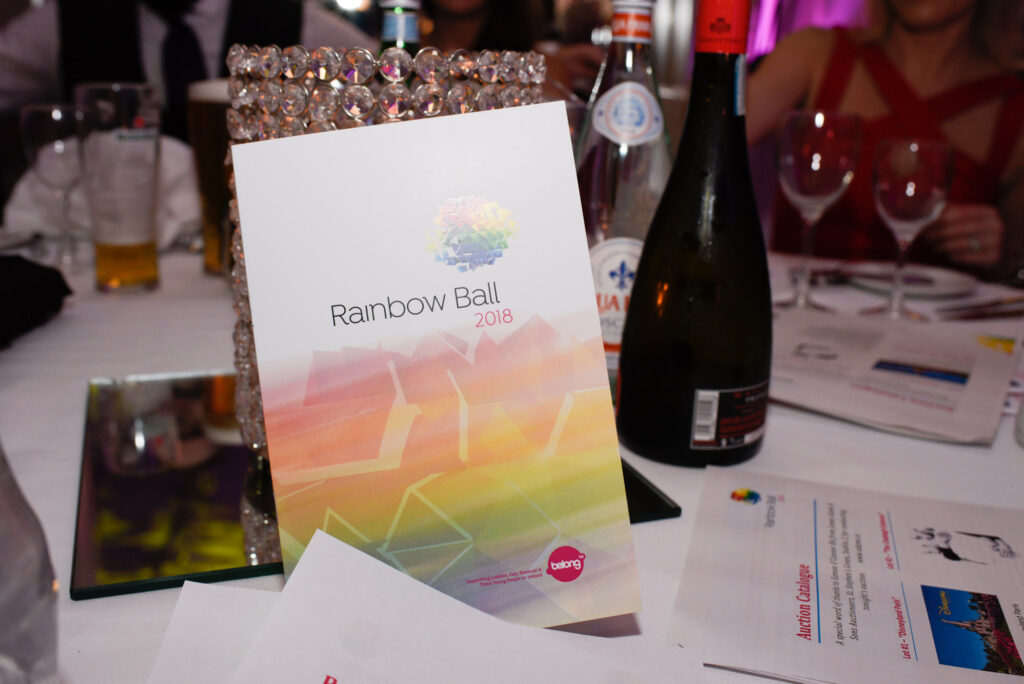 The Rainbow Ball offers a night of celebration, impact and awareness for the lifesaving support services offered by BeLonG To Youth Services.  Speaking after the event, Executive Director, Moninne Griffith said, "We know that providing support to LGBTI+ young people saves lives. This is what we do at BeLonG To. Thanks to funds raised from important events such as The Rainbow Ball we can help young LGBTI+ people that need support and continue our mission to create a world where they can express who they are, and who they love, without experiencing hate and discrimination. We are so grateful to our amazing sponsors, corporate partners, committee members and guests who helped to raise an incredible €71,000 this year to support our life-saving work."
The second annual Rainbow Ball was hosted by author and journalist Róisín Ingle and took place in the Clayton Ballsbridge Hotel, Dublin 4 on the evening of Friday, November 16th, 2018. Guests were treated to a gin and champagne reception, a 3-course meal, entertainment, and special guests.
ENDS
Notes to Editors:
For more information or additional photographs, please contact Sinead Keane, 01 (01) 670 6223 or sinead@belongto.org
BeLonG To Youth Services is the national organisation supporting lesbian, gay, bisexual, transgender, and intersex (LGBTI+) young people in Ireland. Since 2003, they have worked with LGBTI+ young people, between 14 and 23 years, to create a world where they are equal, safe, and valued in the diversity of their identities and experiences. They also advocate and campaign on behalf of young LGBTI+ people, run a specialised LGBTI+ youth service, and offer a range of free supports including LGBTI+ youth groups, sexual health courses and a free counselling service.
Stand Up Awareness Week runs from November 12th-16th, 2018. BeLonG To Youth Services has distributed Stand Up Awareness Week Resource Packs and Posters to all second-level schools in Ireland. To access these free resources including curricular based activity ideas, visit belongto.org